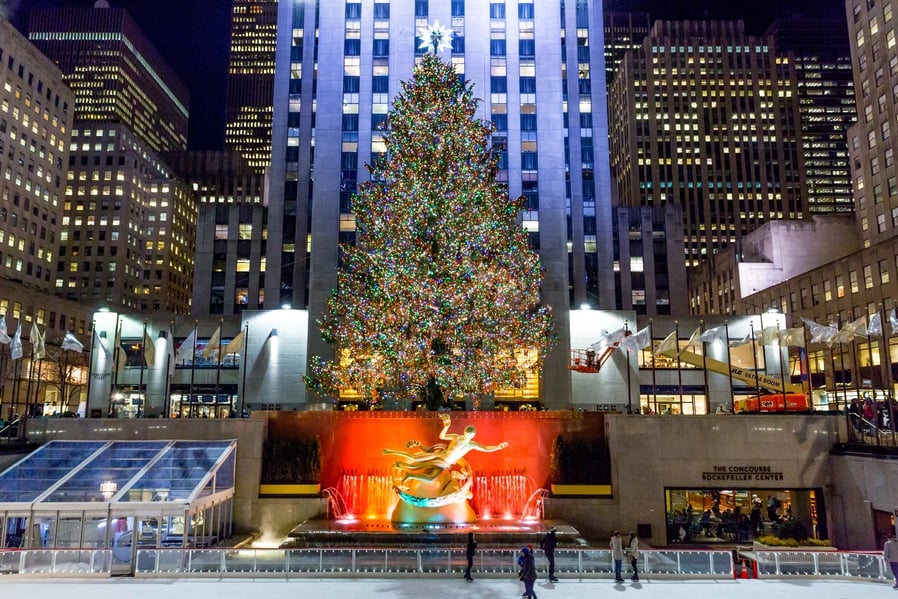 Wrapped in Joy: Where to Find the Best Christmas Shopping Spots on the Upper West Side
As the holiday season quickly approaches, the bustling streets of New York City's Upper West Side come alive with festive charm. This enchanting neighborhood, home to The Lucerne, is the perfect place to indulge in the magical world of Christmas. From guides to holiday events and brunch on the Upper West Side to Christmas gift shopping and holiday events, The Lucerne has you covered in all aspects this winter.
The Upper West Side is chock-full of great places to shop, from unique boutiques and luxury retailers to major department stores. This neighborhood encapsulates the true essence of holiday shopping — you can find everything from one-of-a-kind trinkets, antiques, high-end goods, all perfect for those seeking extraordinary gifts for their loved ones.
Continue reading as we guide you through the best spots to go Christmas shopping on the Upper West Side. Though it is not a comprehensive selection, this list highlights some of the neighborhood's best places for festive shopping.
260 Sample Sale
Looking for a great selection of sustainable luxury? Iconic shopping destination 260 Sample Sale has a curated collection of goods sourced from designer brands. From Cult Gaia to Alice+Olivia, Maison Margiela to Adidas Y3, 260 is a treasure trove for fashion enthusiasts, the perfect place to find a gift for the stylish people in your lives. There is one Final Sale location of 260 Sample Sale on the Upper West Side, as well as five other locations throughout the city.
Shop luxury fashion in a relaxed setting this holiday season with a visit to 260 Sample Sale.
Paper Source
Discover the art of heartfelt gift giving at Paper Source on the Upper West Side this winter. Paper Source is known for its artisanal selection of stationary, cards, gifts, and more. It's the perfect place for you to combine creativity with gift giving this year. From bespoke wrapping paper to craft kits and personalized ornaments, all the knickknacks you need for your presents can be found here. Learn more about Paper Source's holiday specials, sales and locations at their website.
Kee's Chocolates
Kee's Chocolates is known for its delectable, handmade chocolates and other sweet treats. Founded by Kee Ling Tong in 2002, Kee's Chocolates is renowned for its artisanal approach to confectionery. Here, you can buy chocolate bars, omakase boxes of chocolates (chef's choice!), macarons, truffles, cookies and much, much more. Each treat is a work of art, meticulously crafted to offer the perfect bite every time. Located on Columbus Avenue, Kee's Chocolates is ideal for gifting your loved ones with a sweet tooth.
Magpie
Magpie, located in Manhattan's Upper West Side, is your go-to spot for eco-conscious and chic gifts. From home decor to jewelry, accessories, stationery, and toys, their thoughtfully curated selection features locally crafted, sustainably made, and globally sourced products. Whether it's artisanal NYC jams or handmade silk bracelets , each item tells a unique story. While the website showcases popular picks, a visit to their charming store unveils an even wider array of delightful, practical, and enchanting gifts waiting to be discovered.
The Strand at Columbus Avenue
Yet another Columbus Avenue shop that is perfect for holiday shopping is The Strand bookstore, where you can find a new read for your favorite bookworm. Featuring old, new and rare books from across genres and the world, The Strand has something for everyone. This cultural gem is a haven for book enthusiasts, with its extensive collection and peaceful interior. From bestsellers to little-known finds, so much is waiting to be discovered here. This holiday season, enjoy a cozy shopping experience and share the gift of captivating tales with a visit to The Strand.
Poetry of Material Things
Love, thanks and celebration are guiding principles at Poetry of Material Things, a nature-inspired jewelry boutique on the Upper West Side. Offering fine, hand-crafted jewelry, home goods like candles and pillows, accessories and more, Poetry of Material Things is a great place to find anyone a gift. With an array of designers from Sidai Designs and Addison Ross to 5 Octobre and Be Maad, there is something that will appeal to anyone here.
Holiday Markets
From jewelry boutiques to cozy bookstores, chocolatiers to high-fashion retailers, the Upper West Side has an incredible array of options for your shopping this holiday season. You can also consider heading to the holiday markets open throughout New York City, including the festive Columbus Circle Holiday Market filled with artisans offering unique goods, from handmade jewelry to specialty foods, Bank of America Winter Village at Bryant Park and the Union Square Holiday Market (opening on November 16th 2023). Many department stores and other retailers put on beautiful festive displays that you can enjoy while you shop, too.
Don't miss out on this star selection of Christmas shopping opportunities on the Upper West Side this holiday season. Book your stay at The Lucerne today!