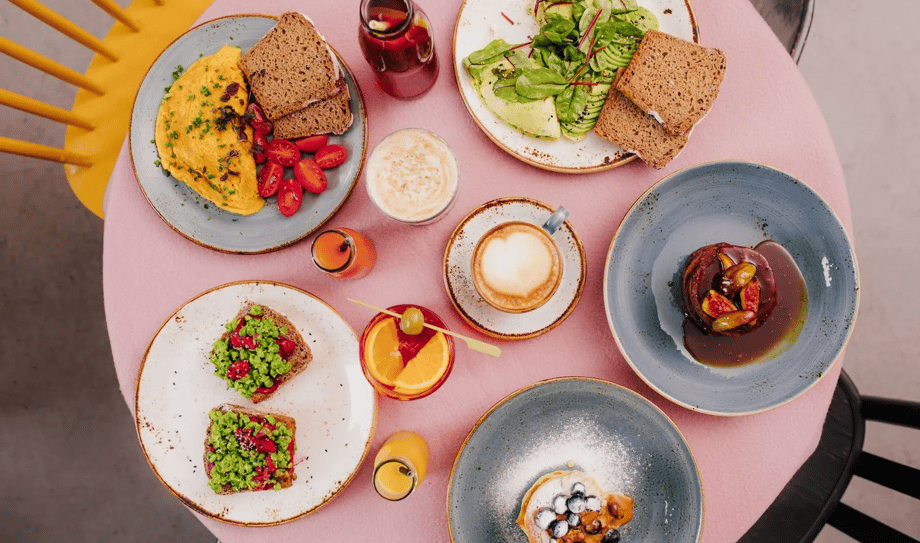 Beyond Eggs and Mimosas: Unveiling Upper West Side's Brunch Scene
Indulge your taste buds by embarking on a delectable journey through the Upper West Side's incredible brunch scene. Beyond the classic brunch fare of eggs and mimosas, this captivating upper Manhattan neighborhood boasts an array of culinary delights that is sure to please everyone's palates, no matter how picky or discerning. From charming cafes to chic bistros to elegant eateries, the Upper West Side's brunch offerings are proof of the neighborhood's diverse and constantly evolving culinary landscape.
Get ready to savor unique flavors, experience innovative twists on classic dishes, and discover hidden gems that will leave you craving more. Continue reading to learn more about some of the Upper West Side's best brunch restaurants.
Nice Matin
Savor the French Mediterranean cuisine at this charming restaurant and sidewalk cafe. New York Magazine voted it one of the best restaurants on the Upper West Side. The bright, airy atmosphere is perfect for breakfast, lunch, or dinner. However, it is the brunch menu that shines. Start your culinary experience with hors d'oeuvres of a pastry basket filled with danishes, scones, and muffins. For your entree, the menu features classic breakfast plates with a distinctly French flair. Some entrees include a goat cheese or gruyere omelet, classic eggs benedict, spicy lamb merguez scramble, shakshuka, vanilla malt waffle, or pommes pailasson. Sandwich offerings include succulent grilled chicken on a baguette, pan bagnat, croque madame, and smoked salmon bagel.
Jacob's Pickles
Located at the heart of the Upper West Side on Amsterdam Avenue, Jacob's Pickles is a universally beloved brunch destination that brings a modern twist to classic Southern comfort food. Brunch lovers flock to this rustic, home-like eatery for their famous buttermilk biscuits and gravy, or their delectable fried chicken and waffles. Other brunch options at Jacob's Pickles - besides pickles, of course — include pancakes, omelettes, eggs Benedict, and much more.
Dagon
For a taste of the Mediterranean in New York City, head to Dagon. This airy, charming restaurant is known for its creative fusion of Middle Eastern flavors, which are highlighted in brunch classics like their shakshuka, which is a traditional dish featuring poached eggs in a flavorful tomato and pepper stew. In their well-appointed, spacious interior, you can savor fluffy falafel pancakes, short rib tagine, freshly baked bread and more. With its inviting atmosphere, Dagon provides a serene escape from the bustling city streets, allowing you to savor the rich culinary traditions of the Mediterranean.
Sarabeth's
Sarabeth's is a veritable brunch institution that has been beloved by New Yorkers for decades. A classic American restaurant with locations across the city, Saraabeth's offers guests a refined, elegant brunch experience with a touch of American nostalgia. They are famed for their fluffy scones and homemade jam, as well as dishes such as their lemon and ricotta pancakes or their lobster omelette. If you're in the mood for something light and sweet, Sarabeth's also offers a wide range of fresh pastries and other baked goods. Sarabeth's is a brunch destination that never fails to impress.
The Milling Room
Housed in a beautifully restored 19th-century building with a gorgeous skylight, The Milling Room offers a sophisticated brunch experience that blends modern American cuisine with historical charm and a bit of Italian flair. The brunch menu features an array of inventive takes on classic dishes, such as cast-iron baked eggs or a mouthwatering brioche French toast. The restaurant's bright space and elegant decor provide the perfect backdrop for a leisurely brunch, making it a true Upper West Side gem.
Café Luxembourg
Café Luxembourg is an iconic Upper West Side bistro that has captured hearts with its French flair for decades. This nostalgic spot is known for its quality dishes, which are mainly French and American classics like croque madame, French toast, steak and eggs, and their famed tuna burger. Café Luxembourg was even featured in the rom-com When Harry Met Sally, so if you are in the market for an inviting, Hollywood-esque bistro, this is the place for you.
The Smith
A bustling hotspot located right in Lincoln Square, The Smith is a must-visit for those seeking a vibrant brunch scene. This lively Upper West Side restaurant offers a menu full of American brunch classics, such as fluffy scrambled eggs, avocado toast, and breakfast burritos. Don't miss out on The Smith's brunch cocktails, either, which include popular brunch beverages like mimosas and Bloody Marys as well as sangria and the 'pool party slushie.' The Smith's stylish feel and their friendly service combine for an unforgettable American brunch.
Bar Boulud
The Michelin-starred Bar Boulud is the place to go for a refined brunch experience inspired by the culinary traditions of France. Renowned chef Daniel Boulud has created a menu that pairs original French flavors with contemporary updates. A highlight of the menu is the Frenchie Burger, complete with Angus beef, raclette cheese, and confit pork belly. The food goes perfectly with their expertly crafted cocktails and extensive wine list, morning or night.
Barney Greengrass
For a taste of New York City's culinary history, head to Barney Greengrass. This legendary Upper West Side establishment, often referred to as "The Sturgeon King," has been delighting locals and visitors alike since 1908. Brunch at Barney Greengrass is steeped in tradition, with an emphasis on classic Jewish delicacies. They are famous for their smoked fish platters, featuring lox, sturgeon, whitefish, and more, which comes with freshly baked bagels and cream cheese. But no matter what you're in the mood for, the rich New York City flavors at Barney Greengrass have you covered.
Visiting the Upper West Side? Book your luxury stay at The Lucerne today.