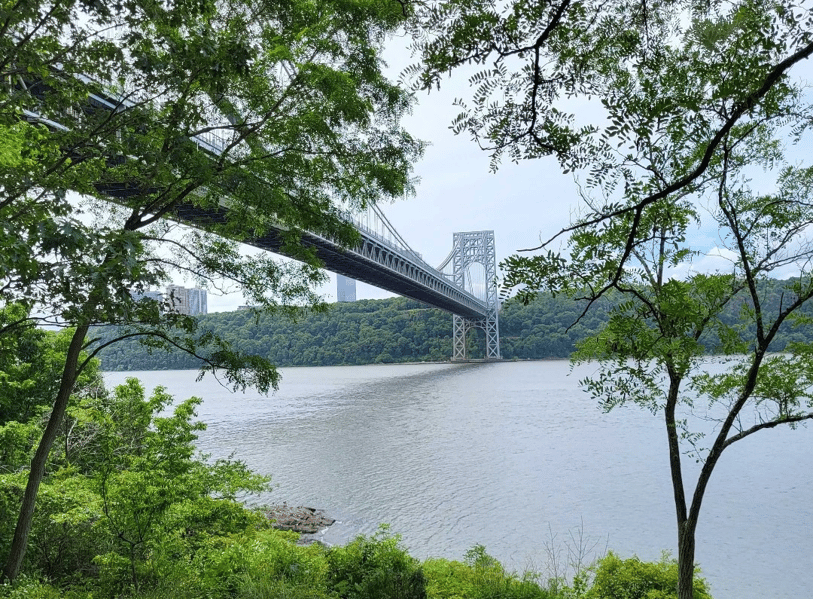 Things to Do on the Upper West Side - Riverside Park
Riverside Park, on the Upper West Side, is a scenic stretch of land along the Hudson River perfect for outdoor excursions. Though it may not be the first park you think of in New York City, it is definitely worth a visit for its up-close views of the riverfront and its curated parkland.
Continue reading to learn more about Riverside Park's history and attractions.
What is Riverside Park?
Riverside Park is a 191-acre area of riverfront land on Manhattan's Upper West Side. Located between 59th and 158th Street, this verdant park was designed by famed American landscape architect Frederick Law Olmsted, and it is an official New York City scenic landmark.
Riverside Park was officially established in 1872, though the land was first inhabited by the Lenni-Lenape people and then by Dutch settlers prior to the creation of New York City. In 1865, the commissioner of Central Park proposed a waterfront park, because the only open public area near the water in New York City at the time was down by the Battery. His idea was approved in 1866, and the city began buying plots of land for what is now Riverside Park.
Olmsted, who was already highly regarded for his work on Central Park and dozens of other campuses and public spaces, was chosen to design the park. Of the land set aside for Riverside Park, Olmsted said, "Its foliage was fine, and its views magnificent." The goal for the park was to make it reminiscent of Hudson Valley; the gardens were completed in the English style.
Early in the 20th century, Riverside Park became subject to the ideals of the City Beautiful movement, an urban planning philosophy that promoted beautification and grandeur in American cities. The movement led to the placing of monuments and statues throughout the park, as well as a castle-like entryway and various recreational spaces.
Nowadays, Riverside Park has expanded beyond its original boundaries and restored to an even better state than before its decline in the 1950s. The park is home to two main paths: Riverside Walk, along the waterfront, and Cherry Walk, named for a grouping of 700 cherry trees that were donated to the park in 1909 by the Committee of Japanese Residents.
What Can You Do at Riverside Park?
There are dozens of things to do at Riverside Park, from jogging along the waterfront to biking, playing frisbee on the field to admiring the wildflowers. Here are some of the more specific activities you can take part in at Riverside Park.
Grant's Tomb
The 18th President of the United States, Ulysses S. Grant, and his wife are laid to rest at Grant's Tomb in Riverside Park. This striking monument was based on the Tomb of Mausolus in Turkey, and it was designed by architect John Hemenway Duncan. The tomb is a National Monument, and an important memorial to Grant's memory and legacy.
Birdwatching
There's a bird sanctuary located between 116th and 124th Street of Riverside Park, with an estimated count of more than 200 species of bird. Waterfowl is common here, along with red-tailed hawks, falcons, and songbirds. The sanctuary is also famously home to a wild turkey named Giuliani — yes, after the former mayor — who was first spotted in 2003.
The bird sanctuary was first established in 1840 by John James Audubon, the naturalist, after he purchased about 30 acres of land nearby; it later became part of Riverside Park.
Eleanor Roosevelt Memorial
Dedicated in 1966, the Eleanor Roosevelt Memorial stands at 72nd Street. The monument was designed by Bruce Kelly and David Varnell, and it is topped by a statue of Roosevelt, sculpted by Penelope Jencks. Along with a flower bed, the monument also includes a quote of Roosevelt's about human rights. You can pay a visit to the memorial to honor this famed First Lady.
91st Street Community Garden
For 41 years, volunteers have been running to and tending a bucolic community garden in the midst of Riverside Park. Located between 90th and 91st street on the park's Serpentine Promenade, this gorgeous stretch of perennial and annual flowers is split into individual plots, which come together to create an eclectic, heartwarming scene. The garden was even featured in You've Got Mail (1998), a classic New York rom-com. Make your own romantic memories during a stroll through the 91st Street Community Garden — or become a volunteer!
What's Near Riverside Park?
There are countless things to do near Riverside Park, which is easily accessible from all of the Upper West Side. You can walk to any of these 12 best restaurants on the UWS, or visit these top five museums. Other attractions easily accessible from Riverside Park include Broadway, Corpus Christi Church, Columbia University, Central Park, and Columbus Circle.
How far is Riverside Park from The Lucerne?
Located on 79th Street, The Lucerne is just a quick walk away from the southern end of Riverside Park. At just 0.2 miles away, it will only take you about two minutes to walk from The Lucerne to the park, though it will take you a longer time to trek the whole park.
Visit Riverside Park with ease while staying at The Lucerne. Book here!