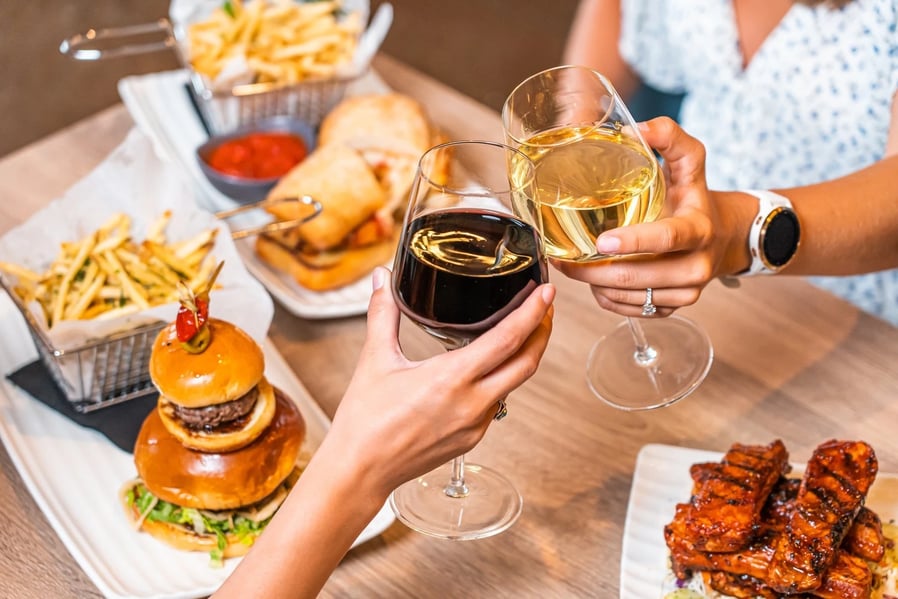 Savor the Flavors: Discover the Best Dining Spots on the Upper West Side
The Upper West Side of New York City has something for every craving. As a cultural hub with residents from all across the world, the Upper West Side offers everything from Italian delis to Southern comfort food to fusion Indian fare. The neighborhood has come a long way in its dining experience, and it's now one of the city's best — but still lesser known — foodie destinations. The best dining spots in this calm neighborhood are often hidden gems or neighborhood institutions, so keep reading for an overview of some of the Upper West Side's absolute best.
Without further ado, here are seven more incredible dining spots on the Upper West Side, all in close proximity to The Lucerne. This list is an extension of our curated list of twelve of the best restaurants on the Upper West Side.
1. Miriam (2 min. drive / 6 min. walk)
Airy and romantic, Miriam is an Israeli-Mediterranean-inspired restaurant with locations across New York City. With a focus on fresh, locally-sourced ingredients, some of Miriam's best dishes include crispy cauliflower with tahini, shakshuka, artichoke heart salad, and Kadaif wrapped shrimp.
Miriam also offers an extensive wine list that focuses on wine sourced straight from the Mediterranean, the perfect pairing to a lunch or dinner at the restaurant. You'll be transported straight to a summer evening in Tel Aviv with a visit to Miriam on 74th and Amsterdam.
2. Essential by Christophe (3 min. drive / 6 min. walk)
Chef Christophe Bellanca's Essential by Christophe is an elegant, refined take on classical French fare. The interior is minimal, full of light wood and graceful decor, forming the perfect backdrop for Bellanca's technical creations. The highlights of Essential's sophisticated menu include a caramelized Comte Custard, a Steamed Raviolo, and a classic Iberico pork dish. The entire space, from cuisine to environment, has the air of a modern French bistro, with creative amuse bouches and incredible pastries.
Enjoy a dignified, delicious meal at Essential by Christophe, located on West 77th.
3. Dagon (3 min. drive / 14 min. walk)
Located on a prominent stretch of Broadway, Dagon is another restaurant that elevates and innovates on classic Mediterranean cuisine. Named after the Phoenician and Philistine god of the earth and agriculture, Dagon lives up to its heritage with its ingredient-focused fare. Dagon is known for its freshly baked bread, as well as dishes like its short rib tagine and chicken liver mousse.
Dagon's food is a flavor-packed combination of Middle Eastern influences; the restaurant itself is a fun, breezy fixture on the Upper West Side.
4. Jacob's Pickles (1 min. drive / 6 min. walk)
Southern comfort food is the name of the game at this iconic Upper West Side locale. Jacob's Pickles is a favorite among local residents and visitors alike, due to its inviting, hearty takes on America's classics. From 2011 onwards, Jacob's Pickles has been serving buttermilk fried chicken, mac and cheese, biscuits and gravy, and pickles — along with some of the country's best craft beers.
Hospitable, bright, and oh-so-delicious, Jacob's Pickles is a must-visit restaurant on the Upper West Side.
5. WAU (1 min. drive / 2 min. walk)
Delectable southeast Asian flavors get a brand new spin at WAU, a unique, well-appointed eatery on Amsterdam Avenue. Named after an intricate Malaysian moon kite known as the Wau Bulan, the restaurant takes the same detailed principles into the crafting of its food. WAU evokes the famed hawker stalls of Singapore's food streets, serving family-style dishes like Wanton Mee, Malaysian red curry, and Singapore chili crab.
Delightful, fresh, and rich with flavor, WAU will transport you straight to the bustling cities and gorgeous beaches of southeast Asia.
6. Barney Greengrass (2 min. drive / 9 min. walk)
A simple New York City deli is exactly what you'll find at Barney Greengrass. It's a great place to pick up a quick breakfast or lunch, and to experience one of New York City's most famous institutions — the neighborhood deli. Barney Greengrass has been serving its iconic bagels and lox for over a century, but it never gets old. Cozy, welcoming, and full of top-notch deli fare, Barney Greengrass is one of the greatest Upper West Side dining spots.
7. Nice Matin (0 min. drive / 0 min. walk)
Last but certainly not least, Nice Matin is The Lucerne's very own French Provençal restaurant, which has been voted one of the best restaurants on the Upper West Side. This sophisticated brasserie has a classic French Riviera atmosphere, and it serves delectable, freshly-sourced dishes that include veal escalopes, soupe au pistou, and tuna tartare. Perfect for brunch or dinner, Nice Matin will awe you with its authentic cuisine.
8. Bodrum
(3 min. drive, 15 min. walk)
Bodrum is a highly regarded restaurant in the neighborhood that has an extensive and upscale menu with a Mediterranean style fused with Turkish influence. Its menu highlights are homemade lentil soup and a variety of 16 brick oven pizzas. Bodrum is situated on Amsterdam Ave, and in addition to its charming brick-walled interior, it has extensive outdoor seating. Its popularity with locals has made it a neighborhood favorite.
9. Leyla
(3 min. drive, 7 min. walk)
Leyla is a culinary gem on the Upper West Side that is a must-visit for anyone looking for a unique and unforgettable dining experience. The restaurant is inspired by the flavors of the Mediterranean and offers a diverse menu of dishes that are both delicious and affordable.
In addition to its fantastic menu and ambiance, Leyla is also known for its hand-crafted cocktails. The bartenders are skilled in mixing up creative and refreshing drinks that perfectly complement the bold and flavorful dishes on offer.
Looking for more Upper West Side dining recommendations? Then remember to check out our earlier list of twelve of the best restaurants in the neighborhood, featuring such institutions as Bar Boulud and The Leopard at Des Artistes.
It's not too late to enjoy a spontaneous trip to New York City. Book now!