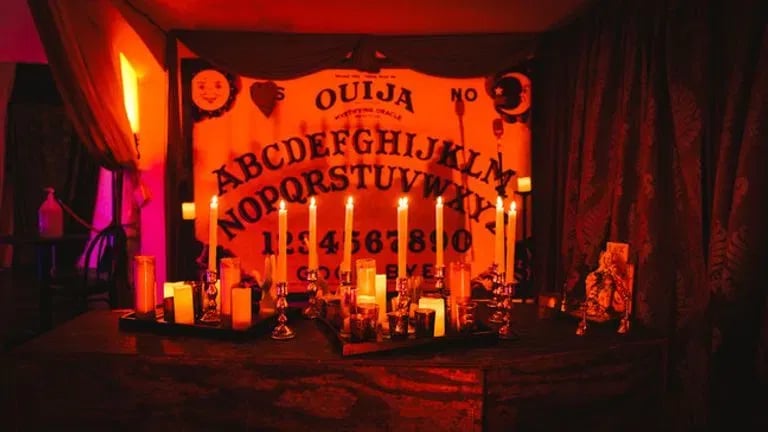 Haunted Nights in the City: NYC's Most Unforgettable Halloween Events
As the soothing chill of autumn settles over the lively streets of New York City, it transforms. In October, in particular, the Big Apple becomes a playground of eerie delights, spine-tingling festivities, and spooky parties. From haunted mansions to hayrides, the city offers a wide range of unforgettable Halloween events that are sure to send shivers down your spine — or not, if you're a bit of a scaredy cat.
But whether you are looking for some family-friendly fun or a night out on the town, the city has you covered. With events throughout the whole month leading up to Halloween, fans of the holiday will never be without something to do.
Here are some of the best Halloween parties and activities happening in New York City this October 2023.
House of Spirits Cocktail Soirée
Hosted at a historic five-story mansion, the spectacular House of Spirits is an all-around immersive experience. The mansion transforms into the setting for a night of spiritual connections and otherworldly occurrences, complete with live actors and a giant Ouija board. Guests can mingle, enjoy cocktails, watch magic shows, get their tarot cards read, and explore the mansion — which is sure to have secrets hidden throughout.
This interactive variety show-turned-party is a unique, joyful way to celebrate the spookiest holiday of them all. Though tickets are not yet on sale, you can follow the House of Spirits Instagram for further information.
Blood Manor
For those seeking heart-pounding scares, Blood Manor offers a journey through New York City's premier haunted house, filled with terrifying surprises at every turn. Located on Broadway, Blood Manor has over 10,000 square feet of labyrinths, themed rooms, and creepy corridors. Open throughout October and a few days in November, this haunted attraction is not for the faint of heart. Book your tickets in advance here.
Cityfox Halloween Festival at Avant Gardner
An acclaimed venue in Brooklyn, Avant Gardner is the perfect place to dance the night of All Hallow's Eve away. Held in an outdoor area that seems transported straight out of the party capitals of Europe, the Cityfox Halloween Festival is sure to be a spectacular time. The two-day festival will be on October 27 and 28 this year, headlined by the Adana Twins and Bob Moses. Fans of EDM and Halloween will love the confluence of the two at this festival. Get your tickets here.
Bane Haunted House
Looking for a more family-friendly Halloween activity that will still give you exhilarating scares? Head to Bane Haunted House, a physically and mentally challenging experience located in Hell's Kitchen. Offering escape rooms and laser tag in addition to the haunted house itself, this attraction is endlessly entertaining. Its unique interactive approach also requires you to solve puzzles, face your fears, and work as a team to survive this intense and immersive experience.
City of Gods at House of Yes
House of Yes, a popular nightclub in Brooklyn known for its immersive and theatrical events, is also known for its Halloween events. From 'Cirque du Freak' to this year's theme, House of Gods, these insane parties blend circus acts, dance performances, live music, and an all-around good time. City of Gods in particular is an invitation to enter a hedonistic world beyond the human realm, with the help of gravity-defying acrobatics and jaw-dropping performances. Tickets can be purchased on the House of Yes website.
Ghost Stories of the Met Tour
With over 1.5 million works in its holdings, the Metropolitan Museum of Art is sure to have some spooky artifacts — and that's exactly what this exclusive tour will show you. Held in the evening from 6 to 8 pm from now until the end of the year, this ghost tour delves into the spooky and supernatural tales associated with the museum's exhibits and objects. Re-experience the Met by discovering the hidden stories behind the artwork and artifacts, adding a ghostly twist to your experience. Tickets can be purchased here.
Sleepy Hollow Haunted Hayride
Though not in New York City itself, Sleepy Hollow is definitely worth a day trip, especially during the Halloween season. The legendary village of Sleepy Hollow is just an hour north of the city, and it organizes an annual hayride that takes visitors through the hauntingly beautiful landscape that inspired Washington Irving's iconic — and spooky — tale, "The Legend of Sleepy Hollow." With live actors, intricate sets, and a touch of historical accuracy, this experience promises an unforgettably terrifying thrill. You can even finish the night off by dropping by a free block party, featuring live music, activities, and more. The 2023 Hayrides will be held on October 20 and 21, and tickets go on sale in September.
Whether you're seeking spine-tingling scares or extravagant masquerades, New York City's lineup of festivities ensures a hauntingly good time for all who dare to indulge.
Don't miss out on NYC's hottest Halloween events — book your stay at The Lucerne now.