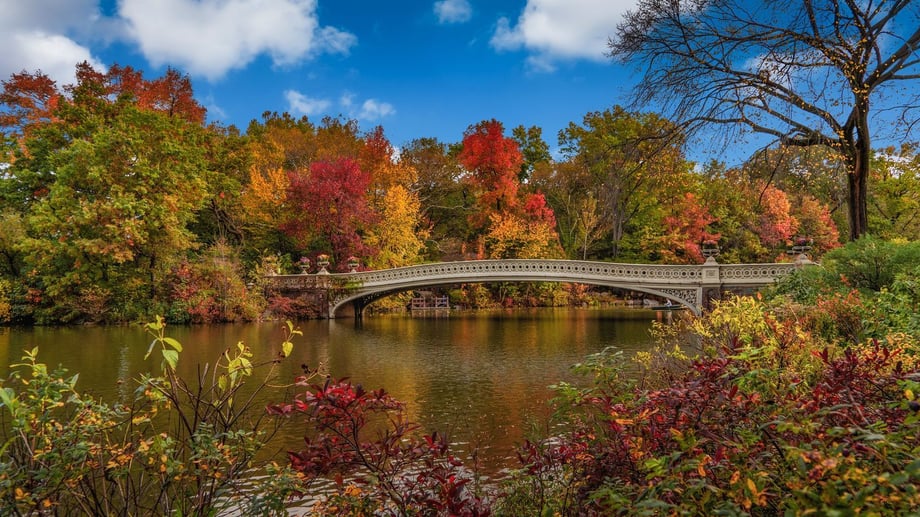 Harvesting Happiness: Outdoor Activities to Enjoy this Fall in NYC
As the summer heat gives way to crisp breezes and the leaves begin to turn into vibrant oceans of red, orange, and gold, New York City officially enters the fall season. Autumn offers a window of opportunity to indulge in a variety of outdoor activities that capture the essence of the city's charm. From farmers' markets to scenic bike rides to strolls in Central Park, there are countless ways to embrace the cooler weather and beautiful urban scenery of New York City in the fall.
Here are our favorite unique outdoor events and activities that you can enjoy during the fall in NYC.
Central Park Foliage Walks
Central Park, the beating heart and lungs of New York City, becomes a veritable symphony of colors during the fall. Take a leisurely stroll along the park's winding pathways, especially in the upstate New York-inspired Ramble. You'll be surrounded by trees ablaze with orange and red, which juxtapose spectacularly with the silver and chrome of midtown. Using the park's foliage guide, enjoy a walk past the best locations in the park to admire the changing flora, a perfect way to experience the season's beauty.
Central Park is also a great option for our guests, as it is just minutes away from The Lucerne by foot.
Harvest Weekends at Queens County Farm Museum
Step back in time at the Queens County Farm Museum, which operates the largest portion of undisturbed farmland left in New York City. This eighteenth-century building is eminently nostalgic, offering a homesteading escape from the hustle and bustle of the city. Its popular Harvest Weekends, held every weekend in October, are an opportunity for visitors to buy seasonal produce, pick pumpkins, enjoy a hayride, and more. There's even a corn maze that promises fun for all ages. And that's not all that this historic farm offers — click here to learn more about its fall festivities.
The Great Jack O'Lantern Blaze
Just a forty-five minute drive upstate, the Van Cortlandt Manor is home to The Great Jack O'Lantern Blaze, a mesmerizing display of over 7,000 hand-carved pumpkins lit up against the night sky. It's an annual event that features intricate pumpkin sculptures, synchronized lighting, and a sense of enchantment that is perfect for all ages, all set within a bucolic 1700s-era landscape. This year will also feature a pumpkin Ferris wheel and a circus sideshow — so don't miss out.
Oktoberfest at Watermark
You may not be able to visit Germany this Oktoberfest but you can still participate in the iconic German tradition in NYC this year. With a stunning backdrop of the Brooklyn Bridge and the Manhattan skyline, Oktoberfest at Watermark Bar is a month-long extravaganza, held seven days a week. Enjoy traditional German beers, bratwursts, and pretzels while soaking in the sights and sounds of the East River waterfront. For information on hours, tickets, dress code, entertainment, and more, visit this website.
Fall Foliage Bike Ride along the Hudson River Greenway
Another one of the most scenic ways to enjoy the fall foliage is to rent a bike and cruise along the Hudson River Greenway, a path that hugs the riverbank and offers breathtaking views of red and gold against the Manhattan skyline. The Greenway takes you through various parks and offers the perfect blend of urban and natural beauty. It even stretches for 750 miles, all the way into upstate New York, though you don't have to go anywhere near that far to enjoy the scenery.
Brooklyn Botanic Garden
Immerse yourself in the vivid autumn landscapes at the Brooklyn Botanic Garden, which offers 52 acres of verdant flora from across the world. The Japanese Garden and the Cranford Rose Garden offer particularly stunning fall scenes, with vibrant colors creating an idyllic atmosphere for leisurely strolls and serene moments. The season also brings some special events to the Brooklyn Botanic Garden, which you can explore on their website.
The Bronx Zoo Boo at the Zoo
Looking for something that will excite even the youngest of children? The Bronx Zoo, already a spectacular destination in other seasons, transforms into a Halloween wonderland during Boo at the Zoo. This family-friendly event, which lasts throughout October, features pumpkin-carving demonstrations, costume parades, spooky stories, and other animal-themed activities. Your whole family can explore the zoo's exhibits while enjoying seasonal festivities and live entertainment. Book tickets now.
Whether you're enjoying local wines in the Hudson Valley or navigating a corn maze in Queens, the city offers an array of unique outdoor events and activities that capture the essence of autumn delight.
Enjoy fall in NYC from a luxury perch on the Upper West Side. Book your stay at The Lucerne now.