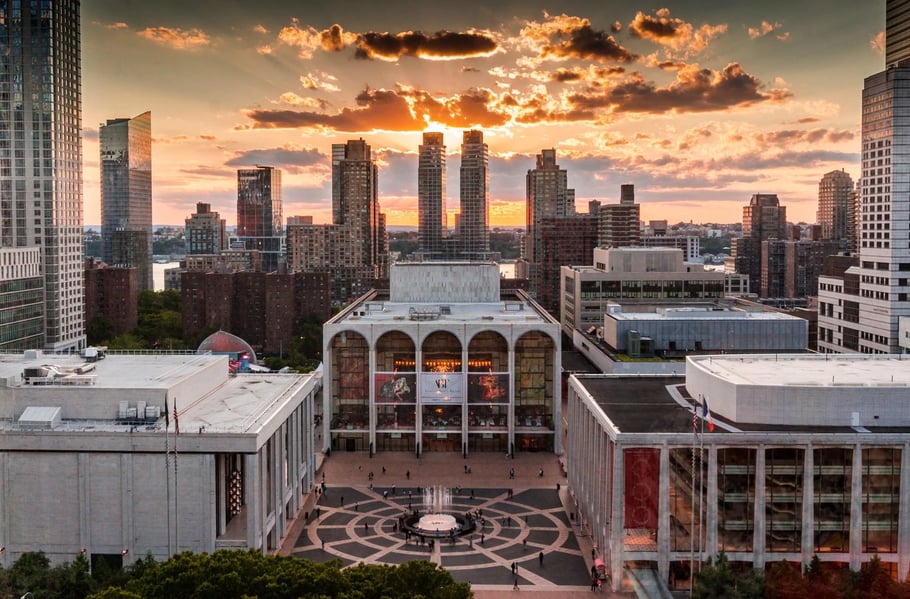 Explore Lincoln Center's Arts Scene on the Upper West Side
Beautiful Lincoln Center, located in Manhattan's leafy Upper West Side neighborhood, is one of the world's premier performing arts centers. Founded in 1956, it is home to several famous cultural and arts institutions, including the New York City Ballet, the Metropolitan Opera, the New York Philharmonic, and The Juilliard School. The wide variety of world-class performances and the stunning architecture make Lincoln Center a must-visit for anyone interested in the arts.
Lincoln Center's complex is made up of thirty indoor and outdoor spaces across 16.3 acres of land on the Upper West Side. Its most prominent performing spaces include the Metropolitan Opera House, the newly renovated David Geffen Hall, and the David H. Koch Theater.
Lincoln Center is a mere 4 minute drive and 17 minute walk away from The Lucerne, via Amsterdam Avenue. Continue reading to learn more about the various aspects of Lincoln Center's flourishing arts scene, and how you can enjoy it.
Classical Music
Classical music is one of Lincoln Center's primary focuses, due to the presence of the New York Philharmonic, one of the oldest and most renowned orchestras in the country. Though the Philharmonic predates the Lincoln Center — it was founded in 1842 — it has been based out of Lincoln Center since the facility was built.
The New York Philharmonic performs live, over international broadcast, and makes recordings; it also runs educational programs. Its events run from one-night-only showcases (this year featuring legendary cellist Yo-yo Ma) to intimate artist spotlights to regular concerts. Its season runs from October to June; this year's season focuses on themes of humanity, liberation, and sustainability. The orchestra performs over 100 concerts each year, featuring works from Beethoven to Mozart to Rachmaninoff.
For a full list of classical music-related events at Lincoln Center, click here.
Dance
Founded by legendary American choreographer George Balanchine, the New York City Ballet (NYCB) is another of Lincoln Center's foremost performing arts institutions. This company performs in the Lincoln Center's David H. Koch Theater, which was designed specifically in concordance with Balanchine's instructions. The NYCB has the largest repertoire out of any American ballet institution, and it has performed everything from classics like Swan Lake and Romeo and Juliet to contemporary works by some of the world's most famous choreographers.
Throughout the year, the NYCB organizes everything from ballet performances to workshops to 'Inside NYCB,' a presentation exploring the inner workings of the company. Information on and tickets for the troupe's seasonal schedule can be found here.
Beyond the NYCB, however, Lincoln Center also puts on a host of other dance performances, many of them for free, from the family-oriented K-Pop Dance Night to a Noche Flamenca performance.
Opera
Both classic operas and modern innovations on the genre are performed by the Metropolitan Opera at Lincoln Center's Metropolitan Opera House. It is known for its stunning reproductions of classic tales, as well as its vast repertoire; it is now North America's largest classical music organization.
The Metropolitan Opera presents about 27 operas each season, from late September through May, on a rotating schedule. This season's offerings include Puccini's tragic La Bohème, as well as other classics like The Magic Flute and La Traviata. More information on each of the Met Opera's performances can be found here.
Jazz
Founded in 1987, Jazz at Lincoln Center is the performing arts complex's jazz- and modern-music focused organization. Younger than the other institutions but no less established, Jazz at Lincoln Center hosts a series of concerts and performances by its own orchestra and by prominent visiting musicians. The group holds performances in Frederick P. Rose Hall, which is made up of three different venues, including Dizzy's Club, an intimate, high-end jazz club.
Jazz at Lincoln Center's 2022-23 season brings together musicians and compositions from all over the world, including Wynton Marsalis' The Shanghai Suite, and performances by guitarist Stéphane Wrembel; iconic Iraqi virtuoso Naseer Shamma; and world premieres by Colombian harpist Edmar Castaneda and Cuban pianist Elio Villafranca. Catch a concert the next time you're in New York City — visit this link to buy tickets.
Other Programs
The Lincoln Center's many arts efforts are not limited to music, opera, and dance. Besides the aforementioned organizations, the complex is also home to Film at Lincoln Center, one of the sponsors of the New York Film Festival (among other showings). Film at Lincoln Center is one of the country's premier film societies, and focuses on the work of independent and upcoming filmmakers in America and around the globe. It hosts showings of independent, foreign, and classic cinema, schedules for which can be found here.
Lincoln Center also hosts a range of activities, workshops, and events for kids and families, as well as programming throughout the year in a series called Lincoln Center Presents. No matter what you are interested in, there's something in Lincoln Center's arts scene for you.
The Lucerne is just walking distance from the Upper West Side's iconic Lincoln Center. Are you a performing arts fan? Book now!