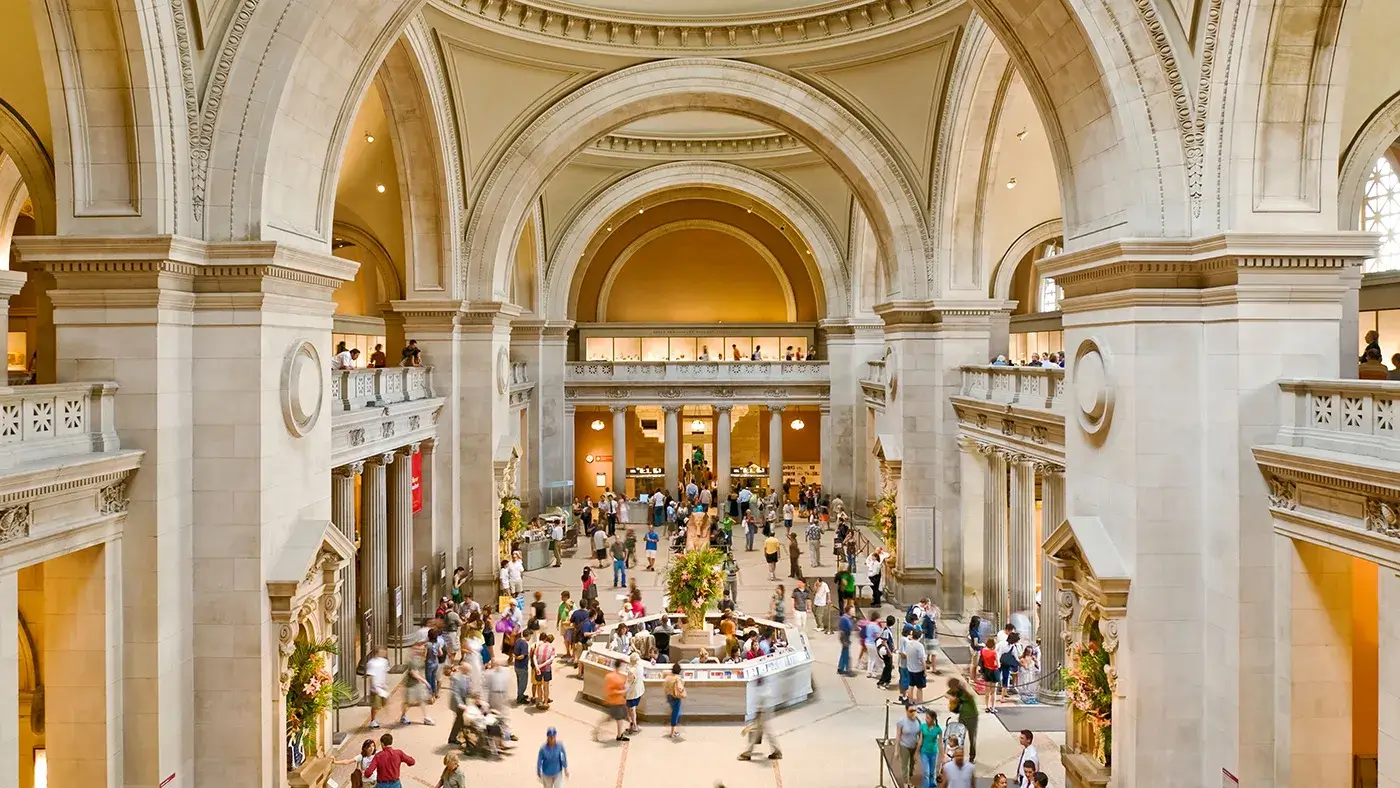 Best Museums in New York City for Art Lovers: Make your Experience Unforgettable
New York City is one of the major artistic and cultural centers of the world — it may even be North America's best city for art lovers. It's no wonder why artists tend to flock to the city. In New York, you can find some of the world's most unforgettable art and some of the world's largest collections.
From the massive Metropolitan Museum of Art to Banksy's "Hammer Boy" graffiti, the art on display in New York City is diverse, extraordinary, and wide-ranging. Here we explore eight of the best art museums on the Upper West Side and beyond; New York City's must-visit destinations for art lovers. We've also included the walking or driving distance from The Lucerne for our guests' convenience.
Banksy's "Hammer Boy" (1 min. walk)
The closest art exhibit out there, Banksy's "Hammer Boy" installation is so popular it seems like a pilgrimage destination for Banksy fans. It's not a museum in any interpretation of the traditional definition, but it is still a must-see if you love art. Located just 278 feet from the door of The Lucerne on the corner of 79th Street and Broadway, "Hammer Boy" depicts a child playing a carnival game called high striker.
The elusive street art Banksy painted "Hammer Boy" in 2013, and it has been a beloved institution of the Upper West Side ever since. Banksy did not leave any explanation for the art, though viewers are welcome to make their own judgements.
Bard Graduate Center (14 min. walk / 3 min. drive
The Bard Graduate Center, which functions as both a research institute and gallery, is a lesser-known art exhibition center that is easily accessible from The Lucerne. The gallery's focus is on design, fashion, and the decorative arts, and it usually shows up-and-coming artists and collaborations between scholars from all over the world.
Many of Bard's exhibits combine history and design, fashion and invention, design and sculpture; they are cutting-edge and absolutely fascinating. It's also a more affordable visit than some of the other museums on this list. If you're a fan of graphic design or fashion or art history, be sure to stop by the Bard Graduate Center.
Metropolitan Museum of Art (23 min. walk / 5 min. drive)
The Metropolitan Museum of Art is the largest collection of art in North America, with over 2 million pieces. It is undoubtedly a place that everyone should try to go to at least once in their lives — especially if you consider yourself an art lover. The Met's collection spans more than 5000 years and countless art movements; it holds Greek, Roman, Asian, Byzantine, Islamic, Oceanic, European, and African art; work by nearly all the European masters, and extensive American and modern artworks. This iconic Fifth Avenue institution could take months to explore fully.
The Met also operates a secondary location called the Met Cloisters in Upper Manhattan, with a collection that focuses on work from Medieval Europe. Both the Met and the Met Cloisters are must-see destinations in New York City.
Solomon R. Guggenheim Museum (27 min. walk / 7 min. drive)
The famed American architect Frank Lloyd Wright is the one behind the unique, iconic design of the Guggenheim Museum. Wright's work of art is home to more works of art, mostly belonging to the Impressionists and Modern art movements.
This museum also resides along Fifth Avenue, and it hosts some of the most expository and experiential exhibits in the city. Current or future exhibits on display at the Guggenheim include Young Picasso in Paris, Gego: Measuring Infinity, and Experimental Art in South Korea, 1960s-70s.
Museum of Modern Art (37 min. walk / 15 min. drive)
The best contemporary art in the world can be found at the Museum of Modern Art. MoMA both collects and discovers; in addition to drawings, paintings, and sculptures, it is also home to thousands of films, photographs, and architectural blueprints. Some notable artists whose work is on display here include Frida Kahlo, Paul Cézanne, Salvador Dali, and Henri Matisse. A full list of artists displayed at the MoMA can be found here.
There's also a unique AI installation at the museum currently that transforms 200 years of renowned artwork into an immersive, reimagined experience, courtesy of artist Refik Anadol. That's just one of the ways the artists on show at the MoMA are revolutionizing the field of art.
The Whitney Museum of American Art (1 h 11 min. walk / 14 min. drive)
Last but certainly not least on this list is the Whitney Museum of American Art, the home of some of the most important American artwork ever. Founded in 1930 by Gertrude Vanderbilt Whitney, the museum has built up a strong collection that includes work by Georgia O'Keeffe, Edward Hopper, Mark Rothko, and Andy Warhol. The 25,000-some artworks housed at the Whitney represent the best and the brightest of American history, making the Whitney one of the best — if not the best — American art museum in the country.
Spend the night in a luxury hotel after a day of unforgettable art. Book now!